Wood Siding Ma Contractor Installer

We would recommend many kinds of wood siding that are on the market today.  Here, however, we discuss cedar siding, because it has proven strong enough to withstand New England winters.    The same quality of "low maintenance" that led to a boom in vinyl siding installation is true of cedar siding as well.  Furthermore, cedar siding doesn't require painting or staining (though both are options).
Benefits of Wood Siding
While the timeless beauty of wood siding is undeniable, it has other benefits adding to its allure.  One of the biggest advantages of cedar siding is that it is available in a wide variety of styles, and colors.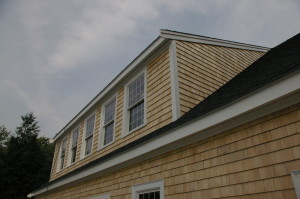 The main types of cedar siding are:
Clapboard:  Long boards installed horizontally, so that they overlap.  Clapboard is often made from cedar because it is resistant to decay, but clapboard is manufactured from other woods as well. very popular wood siding.
Rectangular Planking:  Similar to clapboard, but it is installed vertically and has a smooth look.
Shingles:  Cut by machine, shingles are uniform in size.  Shingles are applied from the bottom up so that each layer overlaps the one below it. very popular wood siding,
Shakes:  Applied like shingles, but they are hand-split and vary in size.
Solid Wood Siding:  Solid wood siding can be applied vertically, horizontally, or diagonally.
Wood siding is a natural insulator that keeps out the cold and keeps in the warm, which means lower utility bills.  If you are among the growing number of homeowners looking for eco-friendly choices, then real wood siding is the answer for you.  Wood siding is a biodegradable and a renewable resource.
Painting Wood Siding
Another benefit of wood siding is that it can be painted.  If you get tired of dark brown or the color has become outdated after a few years, you can easily change it by painting the siding a different color.  Painting wood siding, of course, would mean more maintenance.
Staining Wood Siding
You can choose the exact shade of wood you want by staining it.  If you want your wood siding to be a specific color, wood stain is a great way to do it.  Stains have varying effects on wood's grain and texture.  (Stained wood siding requires less upkeep than painted wood siding.)
Wood siding is an ideal material for a beautiful house that can be applied in many ways to create different looks.