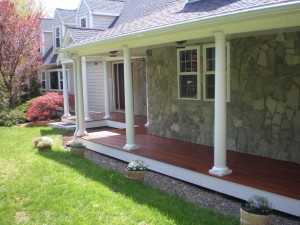 Veneer Stone Siding for Your Home
The exterior materials you choose for your home can have a dramatic impact on curb appeal. Stone is one of the longest lasting materials, as well as an attractive option for the exterior of any home. It stands up to all types of weather, which is important for Massachusetts homes, and is virtually maintenance free. However, stone siding can be expensive, often falling outside a homeowner's budget. This is why Colony Home Improvement offers veneer stone siding, an affordable alternative to building your home completely from stone.
A More Affordable Option
Many homeowners love the look of stone siding, but don't want to spend more on solid stone. In some situations, stone isn't even a viable option due to the weight of the stone, versus a lighter material, such as vinyl siding. If you are looking to keep costs down, veneer stone siding can provide the look you want without increasing the amount you're willing to spend on your home remodeling project.
Excellent for Exteriors and Interiors
Veneer stone siding can be made from a number of materials, including synthetic stone and real natural stone. For instance, one of our most popular options is New England real stone veneers. These materials can be added to just about any surface. Many homeowners choose this type of stone siding for the exterior of their Massachusetts home, while some individuals select this option for interior features. Our high-quality, hand-crafted stone veneer siding can work well for the exterior of the home, as well as:
Chimneys
Foundations,
Fireplaces
Wine cellars
Decorative columns
Cladding
Hardscaping
Other decorative features
This option is ideal for both residential and commercial projects.

If you're interested in using veneer stone siding for your next home improvement project, contact us. We can provide stone siding services to residents and businesses in Brookline, Dover, Duxbury, Hingham, Needham, Newton, Scituate and Wellesley, Massachusetts.