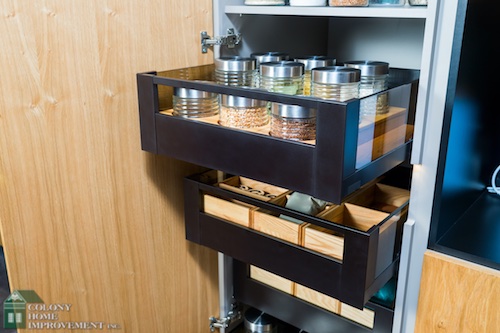 Storage Solutions for Your New Renovated Kitchen
One of the biggest issues many people have with their kitchens is having the appropriate amount of storage for their cooking implements, food and more. If you've been thinking about getting a kitchen renovation in Wellesley, the right remodeling contractors can help you come up with some innovative storage solutions that will help you organize your kitchen and keep things neat.
Cabinet Pull-Outs
Have you ever opened your cabinet drawers, only to feel frustrated with digging through everything just to get what you need? With cabinet pull-outs, you will be able to slide the entire cabinet space out and easily see everything without having to dig. Everything will be right at your fingertips so you can keep things organized and easily accessible.
Open Shelves
Not everything has to be enclosed within cabinets in order to make your kitchen appear neat and organized. In fact, strategically installing open shelves during your kitchen remodeling in Massachusetts can be a great way to make certain items more accessible while you're cooking. Organize your most commonly used cookware on these shelves and always have it within easy reach when you're working in the kitchen.
An Island with Storage
In most kitchens, the cabinets are located around the perimeter of the room, leaving the center of the room relatively empty. If you need more storage, remodeling contractors in Wellesley recommend considering an island in this wasted space. Islands can feature plenty of storage cabinets underneath the countertop, whether you use this space as an eating surface or for food preparation.
Organizational Inserts
Storing cooking utensils and other kitchen implements can seem like a difficult and messy job. However, when you talk to your contractors about options for kitchen renovation in Wellesley, you may find there are plenty of organizational options that can be implemented into your kitchen. Compartmentalized drawers can be the perfect place to keep your kitchen utensils more organized, while countertop boxes can be a good idea to organize those items that will remain on your countertops, helping to reduce the clutter.
Stand-Alone Storage
If your kitchen remodeling in Massachusetts doesn't allow for more cabinet storage to be installed, there are other options you can consider. You may find pieces of furniture that will complement the overall look of your kitchen. For instance, a beautiful hutch can be a good way to display your best dishes, as well as keep everything conveniently stored in your kitchen. Some of the other options can include a buffet table, sideboard or bar cart, giving you a unique look for your kitchen, along with plenty of storage.
Having the right storage is important when it comes to your kitchen renovations. As you work with your remodeling contractors, discuss your options so you can create a beautiful, functional kitchen that is easy to keep organized so you can access everything you need with fewer problems.
If you're looking for remodeling contractors in Wellesley to help with your kitchen remodeling, contact us. We can provide the storage solutions you're looking for.