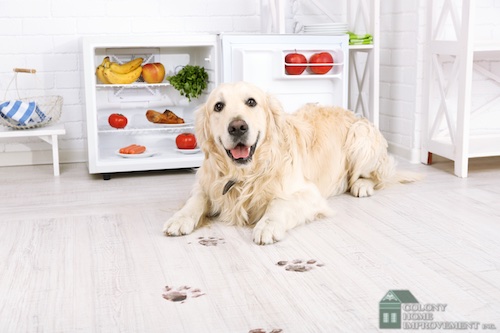 How to Design a Pet-Friendly Home
Pets are a big part of many households across the country. Most people welcome their pets into any home and make adjustments as necessary, but this can be harder to pull off when you're constructing your home from scratch. If you're building a home and want to make sure you accommodate your pets, remodeling contractors in Wellesley can provide the resources you need to ensure your pet is comfortable in your home.
Durable Flooring Options
No matter how well trained your pet is, there are likely to be some accidents in your future. Factor in the sharp claws and the rough and tumble play and your floors are in for a beating. To keep your floors looking like new for as long as possible, choose durable flooring options, such as stone or ceramic tiles, laminate or even painted concrete. These flooring options are also cooler in the warm weather, helping keep your pet more comfortable. If you want carpet, select a stain-resistant fiber to make cleanup easier.
Pay Attention to Your Entryway
Pets, especially dogs, will need to spend time outdoors on a daily basis. This means there will be days where it is wet outside and mud gets tracked in. Other dirt and debris will also make its way into your home on a regular basis. If your pet enters your home straight into the living spaces, any dirt will quickly spread throughout your home, creating more cleanup work. As part of your home remodeling in Wellesley, consider adding a mudroom or a similar entry space so you can get your pet cleaned up before releasing him into the rest of the house.
Create Indoor Play Space
It may not always be ideal to let your pet have free run of your yard due to weather or other circumstances. To ensure your pet is still able to get plenty of exercise, even when you can't let him outside, create an indoor play space, possibly in your basement. Many remodeling services in Massachusetts offer basement remodeling services that can give you the space you need. Add an indoor/outdoor carpet for greater comfort or select a durable tile flooring for young or elderly pets who may be more likely to have an accident.
Choose Paint Instead
One of the biggest decisions you'll have to make, especially in terms of decor, is what to do with your walls. While wallpaper can offer a vast array of options, paint is typically a better choice because of its durability and ease of cleaning. Many pets rub against the walls or may even splatter it with drool or other substances. A painted wall is easier to clean and will be more resistant to scratching than wallpaper, keeping your home looking better.
If you're ready to start getting your home ready for pets, contact us. Our remodeling contractors in Wellesley can help you design a home that accommodates your pets and still gives you the stylish look you're after.