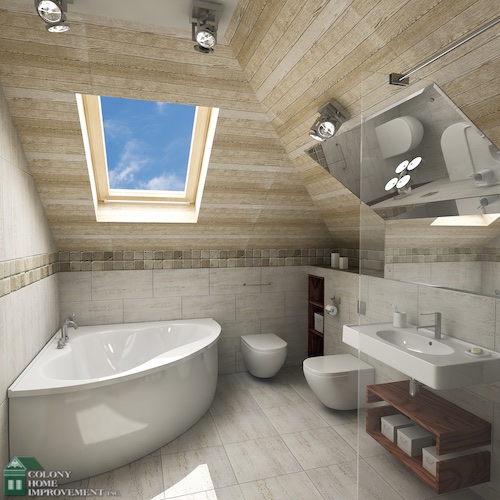 Design Tips to Open Up a Windowless Bathroom
It isn't uncommon to find a bathroom with no windows, which can make it difficult to organize the room and make it feel more open. Even a bathroom with a small window can seem more spacious than one without a window at all. Before you begin your bathroom remodel in Needham, these design tips can help you decide how to make your bathroom roomier and more relaxing rather than cramped and dark.
Keep It Light
The colors you choose for your bathroom can have a dramatic impact on how the room looks and feels. In most situations, white or an off-white shade can be one of the best color choices for a small, windowless bathroom. However, some remodeling contractors in Massachusetts will recommend other bright colors, such as yellow, to help brighten up the room and make it feel more spacious than it really is.
Choose the Right Lighting Fixtures
In addition to selecting the right color shades to make the room seem larger and lighter, it's important to choose the right lighting fixtures as part of your bathroom renovations in Needham. Bright lights and plenty of mirrors can help reflect light throughout the room, creating the illusion of space. Wall fixtures can be a great way to achieve the results you're looking for.
Watch Your Decor
Everyone wants to make their bathroom look beautiful by choosing their decor wisely. While smaller bathrooms, especially those with no windows, still need to be brightened up with the right decor, you also need to be careful not to create too much clutter. A cluttered room will feel smaller, regardless of what else you may do to improve this issue.
Consider a Skylight
There are good reasons there may not be a window in your bathroom. Perhaps the room is located on the interior of the home, with no exterior walls for a window. One of your choices to resolve this problem with your bathroom remodel in Needham is by adding a skylight to the room. Your remodeling contractors can position a skylight that will not only let the light in during the day, but gives you the opportunity to circulate fresh air, depending on the type of skylight installed.
Install a Legged Vanity
Most vanities you see will feature cabinets underneath them, which can actually make the bathroom seem smaller than it really is because they take up so much space. However, a legged vanity (especially one with a clear glass countertop) will lighten up the room and create the illusion of more space around the vanity area.
Small bathrooms are incredibly common in most homes; however, depending on the location of the bathroom, it may also have no windows. When there are no windows in a bathroom, it is easy for it to feel cramped, small and dark. With the help of remodeling contractors in Massachusetts, you can transform this type of room and help it feel more spacious.
If you're trying to transform a bathroom without a window, contact us. We can help you plan a bathroom remodel in Needham to create the luxurious space you're looking for.