Built-ins Maximize Storage and Transform Dead Spaces 

Nothing puts your square footage to better use than built-in custom cabinets and millwork. Whether that means a desk framed within a seldom-used closet or a bookcase tucked into a niche beside the fireplace, built-ins maximize every available inch in your floor plan.  Dead spaces can be transformed into functional space and the result is optimal organization for your home without adding square footage. Built-ins can be designed to match the character of your existing architecture.
---
Recessed Custom Cabinets and Millwork
Recessed custom built-ins require more planning and construction than ones that attach directly to the wall, but they are the best choice for conserving precious floor space. Homework stations are becoming quite popular. . To retrofit an existing bedroom for a custom built-in desk, you could colonize a closet or steal space from an adjoining room for a bump out.  Save desk space by building in recessed lighting, don't forget to include power outlets and phone and data lines nearby.
---
Custom Built-in Dresser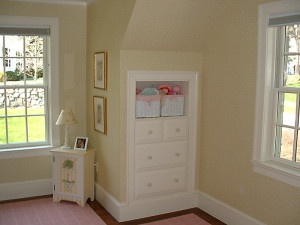 Custom cabinet built-ins concealed behind doors offer the perfect hideaway for food and beverage prep or work areas that might otherwise disfigure the appearance of a custom kitchen cabinets design. The ability to tailor custom cabinets built-ins and millwork to suit your particular needs and floor plan gives your new built-in's a functional advantage over store-bought furniture. Cubbies in your mud room always are a must have, floor-to-ceiling custom built-in shelving in a hallway create even more usable space.
---
Custom Window Seat
The area below a window, often given over to houseplants and little else, is an excellent opportunity for creative built-in custom window seat . Sun filled windows with views are the perfect places to host a selection of cushions, a tray for your beverage, a soft throw and maybe a place to keep your books. By filling the recess of a window, you can extend the comfortable seating places in your home. Different decorative styles and shapes can enhance the comfort level and look of a window. Can't you just imagine a window seat style which suits you in your living, dining, bedroom or children's room?
---
From a wine cellar to an extravagant book case, Colony Home Improvement Inc. can build you a one-of-kind custom built-in cabinets and millwork for your home.
Built-In Cabinets
Built-In Bookcases
Built-In Shelves
Built-In Entertainment Centers
Fireplace Mantles (Mantels)
Trim Carpentry & Moldings
Built-In Wall Units
Custom bay windows
Window seats
Custom Kitchen Cabinets
Kitchen Islands
Semi-Custom kitchen cabinets
Residential Home Bar
Custom Windows & Doors
Mudroom Cabinets & Cubbies
Wainscoting, Wooden Paneling
The beauty of built-ins is that you can customize them to work best for the people who will use them the most. They organize your clutter and make cluttered rooms clean and big.  At the same time, they enhance the selling value of your home.