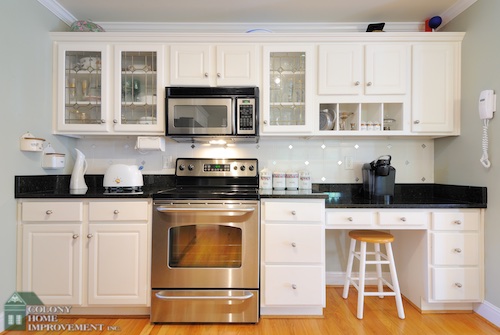 Choosing Kitchen Cabinets: The Pros & Cons of Drawers vs. Doors
One of the most important decisions you will need to make when it comes to your kitchen remodeling in Needham is what type of cabinets you want. If you look at most kitchens, you will find a combination of drawers and swinging door fronts. However, when it comes to your new kitchen, the decisions are entirely in your hands. You will get to choose exactly what fits into your vision for this important room in your home.
Doors Offer More Visibility
When it comes to storing pots, pans and larger dishes, you'll need to not only be able to take them in and out with ease, but you will also want to be able to easily see what you're looking for. When most people think of the kitchen cabinets remodeling services in Needham provide, they think of cabinet doors. Even if you do end up choosing drawers for a majority of your kitchen organization, you will need some cabinets with doors in order to make it easy to see what you're looking for and get things in and out of your cabinets when you need to use them.
Drawers Make Good Use of Space
Many people complain about putting items at the backs of their cabinets and being unable to easily reach them without removing a lot of unnecessary items. While this is unavoidable in some cases, implementing more draw-front cabinets in your kitchen remodel in Massachusetts will provide you with an easy way to access even those items at the backs of the cabinets. This allows you to make the best use of the amount of space you have.
Consider a Good Mix
When you first start talking with your contractor about kitchen remodeling, it's important to let them know exactly what type of functionality you need from your kitchen. You would be hard pressed to find a kitchen that doesn't have some drawers and some door cabinets. However, you will find there is a variety of layouts that will best accommodate the needs of each individual cook. Your contractor will have the experience necessary to help you decide what percentage of drawers versus traditional cabinets you should use, as well as the most functional layout for these features, giving you the kitchen you've always wanted.
Even though cabinet fronts are an important part of any kitchen remodel in Massachusetts, few homeowners realize they have more options than just the look of the fronts. They will also have to decide between drawers and more traditional cabinets. With the help of the right contractor, you will be able to find the right combination to best suit your needs and give you the beautiful, functional kitchen of your dreams.
If you're ready to get started with your kitchen remodeling in Needham, contact us. Our professionals are ready to help guide you through the process of making the best decisions for your needs.