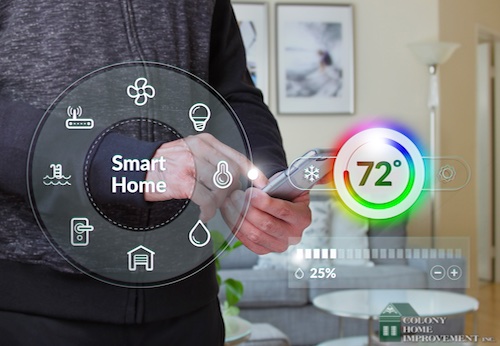 5 Smart Home Technology Trends
Homes today are getting smarter as technology advances and remodeling contractors in Needham are adding these elements into their renovations. Homeowners can get a variety of new features that make home life easier and more convenient. The following five trends are making their way into more home remodeling projects in Massachusetts.
Wireless Controls
Your smartphone can do a lot, but did you know it can also control various aspects of your home? Imagine being able to adjust your thermostat without having to leave your chair or turning on your lights when you are still away from home after dark. With the right home remodeling in Needham, you can put all of these actions and more right in the palm of your hand.
Voice Control
Don't want to be limited to completing actions from your smartphone? While it can be useful to be able to trigger actions in your home when you aren't there, voice controls can make operations when you are at home even easier. You can control music, the thermostat, lights and much more with simple voice commands.
Zone-Based Thermostats
Gone are the days when you set a solitary temperature on your thermostat and that was the temp for the entire house. This often lead to uneven heating or cooling due to the way systems were set up. Today, homeowners are able to program their thermostats, not only to assign certain temperatures to a set time or day, but you can also create zones to keep bedrooms at one temperature and your living room at another.
Better Security
Home security systems have never been more interactive than they are today. When you are working on home remodeling in Massachusetts, contractors can install a number of features that allow you to monitor your home from your Internet-enabled device when you are away. In addition to cameras to keep an eye on your home, whether you're on vacation or at work, you can remotely access lighting and more to make it look like someone is at home, reducing the risk of break-ins.
A Premier Home Theater
Imagine being able to watch your favorite movies and get that theater experience right in your own home. This is all possible with the right home theater setup. These elements can be skillfully implemented into the decor of your home, allowing you to enjoy an immersive experience without unsightly tangles of wires everywhere. Your home remodeling specialists can put together a design that looks great and offers the quality you are looking for.
Remodeling contractors in Needham can provide a vast array of options when it comes to technology in your home. Smart homes are becoming a popular trend. With all the changes in technology, homeowners are able to implement more features to make home life more comfortable and convenient.
If you're interested in adding technology to your home, contact us. Our experienced contractors can help you make your home more technologically advanced.